Residents are preparing a legal challenge to the remediation and redevelopment of a former gasworks in Southall, West London. After 2 years of petrol-like odours and numerous complaints to the council, developers and regulators, they want to stop the building work and are seeking compensation for injury. 
Southall Waterside is one of the most ambitious brownfield developments under way in the UK. Back in 2010, Ealing Council originally refused the planning application, but this was overturned by the then Mayor of London, Boris Johnson.
At the time, he used special powers to give the go-ahead for a project that would bring more than 600 jobs to the area and paving the way for National Grid to sell the land.
The 88-acre former gasworks site is being redeveloped by St James for the Berkeley Group. 3,750 homes and up to 500,000 square feet of commercial space is proposed in a key location next to the Crossrail route into central London.
Built in 1869, the "old gasworks" was a large, bleak triangle of land on the edge of Southall. It contained a chemicals factory which closed in 1973. Over the century, London expanded and neighbourhoods grew up around it.
Soil Cleaning causing Nuisance?
In early 2017, as part of the wider remedial methods used, work began on cleaning soils and removing contaminants in an open-air "soil hospital". The spoil has been allowed to bank up behind nearby residents' properties.  This contains a variety of hydrocarbons including benzene, a known carcinogen, terpenes, naphthalene, plus asbestos and cyanide. In line with national policy on sustainability, Berkeley Group's agreed remediation strategy included cleaning the soil on site. They felt that it was safer than transporting contaminated material along residential streets.
The campaign against the developer is being led by Jo Sidhu QC, who grew up in Southall. With the support of campaigners, he has prepared a dossier of evidence. This reveals residents' respiratory problems, chest pains and other symptoms reported since work began on the Southall Waterside development.
He is mounting a case based on the tort of nuisance. This is in response to what he calls "the abject failure of Berkeley to adequately respond to legitimate grievances."
The row has also spilled over into the local primary school at the edge of the site. The Berkeley site construction manager is a governor at the school and has been asked to resign.
Wide range of impacts
Residents across 50 households have spoken of breathing difficulties and the onset and worsening of asthma. A wide range of other symptoms have been reported. These include eye irritation, irregular heartbeats, migraines, skin rashes, chest infections, nausea, dizziness, memory problems and a sensation of "internal burning". Some said they only felt well when they left the Southall area.
Amrik Mahi, who lives in Greenland Crescent, said: "First, I didn't know what was happening. I used to walk two or three miles a day. Suddenly, I couldn't go more than 100 yards without feeling as if my chest was exploding. The GP diagnosed asthma and gave me inhalers but I can hardly get to the end of the road."
No Independent Air Quality Data Review
The Environment Agency (EA) is the primary regulator of the soil remedial works. They are there to advise Ealing Council on how the land affected by contamination should be managed.
The Council is responsible for investigating complaints of statutory nuisance. Mr Sidhu QC argues this is the key issue here. He states that "Public nuisance is both a criminal offence and a civil action in tort. It also involves substantial breaches of environmental law."
Public Health England (PHE) and Public Health Ealing are tasked with protecting the health of the public. A PHE interim assessment of the available air quality data monitoring provided by Atkins, hired by Berkeley, said that it was "considered unlikely to pose a direct toxicological risk to the health of the nearby population".
It went on to say that "on the basis of the available monitoring data, average levels of VOCs [volatile organic compounds] have been below or comparable to guideline or assessment levels."
However, levels of naphthalene on site "should urgently be reduced to prevent prolonged exposures".
An issue with air quality monitoring levels for Volatile Organic Compound (VOC) is that they are based on occupational hazards rather than for nearby residents. The campaign group were also surprised that Ealing Council did not seek its own independent assessment and relied on the developer.
Next Steps
Mr Sidhu QC is not going to be representing the campaign group when the case comes to Court, as he is a criminal barrister. Instead, he will instruct a team of specialist environmental lawyers and barristers to pursue a public nuisance case against Berkeley.
Ealing Council and the EA could also be the subject of legal action.
Under section 222 of the Local Government Act 1972, local councils are empowered both to prosecute and to commence civil proceedings for public nuisance where this is "expedient for the promotion or protection of the inhabitants of their area". They can also apply for an injunction in the county courts or High Court.
However, activities subject to an environmental permit ­ like Southall Waterside ­ require government permission before launching a prosecution for breaching an abatement notice, to avoid the potential for double regulation.
A Berkeley Group spokesperson said: "This is a highly regulated activity and all work has been closely monitored and approved by the authorities, including the London Borough of Ealing and the Environment Agency. Any legal challenge – if and when it materialises – will be vigorously opposed."
"Delicate Balance" needed                                            
There is no doubt that regeneration of the old gasworks will eventually revitalise Southall, bringing new homes, jobs, shops and leisure space.
However, the Waterside site remediation raises serious concerns about pollution containment in close proximity to existing residents.  Also,  how housing developers are permitted to encroach into local education interests, as this represents a potential conflict of interest.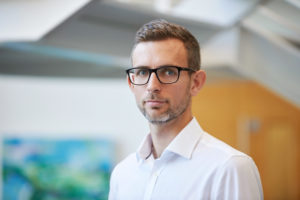 Commenting on the case, Managing Director at Future Climate Info, Tim Champney said:
"Sustainability policy in development quite rightly promotes the reuse of materials on-site where possible. This aims to reduce the environmental and social impacts from hauling soils off-site to remedial facilities or landfill. This also lessens the demand on sourcing new material.
However, there is a delicate balance to be found between the interests of sustainable development and those who live in close proximity where the practices can have unintended short term consequences.
Ensuring that on-site remedial methods cause minimal local disruption will be essential to maintain public support. It also avoids developers being worried about employing these important principles in future."
We will watch this developing nuisance case with interest as it moves to the Courts.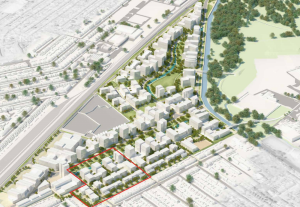 Image shows proposed layout of 3,700 unit Southall Waterside development. Courtesy of Construction Enquirer
Does your client has a potentially complex redevelopment site that needs due diligence on its past use? Our commercial environmental report, combined with our fixed fee further review services provide unparalleled support. For more information, contact us on 01732 750180 or email consultancy@futureclimateinfo.com