UK department store John Lewis has revealed its plans to become a residential landlord by converting its own shop car parks into rental housing across the UK.
Over the next decade, approximately 10,000 homes will be built on sites that also include plots above the retailer's Waitrose supermarkets and next to its distribution centres. This could herald a new chapter in commercial to residential conversions, following relaxation of planning rules for change of use last year.
The move is seen by the company that places its employees at the heart of its business, as part of its "social purpose" agenda to help address Britain's housing shortage. At the same time, it helps maximise the value of its land assets, which have been impacted by the Coronavirus pandemic and online competition. It has publicly said that it is seeking to secure 40% of its annual income from non-retail activities.
The company will work with developers to build new homes on up to 20 sites, with planning applications anticipated for two sites next year in Greater London. They are part of 7,000 of 10,000 rental homes identified across its existing property portfolio. But there will also be new build developments among the conversions.
The homes will range from studio flats to four-bedroom houses. Future residents will be able to use their own furnishings or hire furniture from John Lewis as part of their rent. This rental option has become popular in recent years, particularly with younger residents, driven by the growth in the sharing economy, concerns about sustainability and the need to recycle and reuse.
John Lewis could follow a model developed by American firm KTGY Architecture + Planning, where unused cark parks were transformed into a framework for housing units in 2019. Park House comprises housing made from shipping containers placed within repurposed multi-storey parking garages.
The properties will fall under the Build to Rent (BTR) category, and are likely to be managed by an established lettings company.
Oversupply of Space Forces Retailer Rethink
The move is a clear response to the fact that there is too much retail space in the UK, while residential income has remained resilient through the pandemic. BTR is likely to be the prime vehicle for many other retailers that own their own assets to follow suit with. But conversion of commercial to residential use isn't always easy.
Many shopping centre spaces aren't well suited to building flats and housing units, with multiple service and utility points. In fact it can be easier to put retail units at the foot of taller residential blocks to make more effective use of the land.
In time, some supermarkets may look at their footfall and provision for car parking in an area and revise their footprint, giving up more space for flats and houses in the car park.
For some retailers, the switch will be harder as the linkages to property aren't naturally there. John Lewis is a lifestyle brand with a higher-end, loyal customer base which is also aspirational for a wider audience. It has a particular focus on the home anyway and provides a wide range of home-related services from food delivery to insurance. Expanding the lifestyle experience to include your home may be John Lewis' smartest move to date.
But the continued appeal of property as an asset class and the BTR model may be enough for other retailers to fall into line. Institutional investors are now also showing a keen interest, given the potential returns. Current institutional investment in UK residential property is only estimated to be around £40 billion in total, but that's forecast to rise to over £500 billion as the market matures.
Revitalising a Doncaster Icon
Danum House, in the centre of Doncaster, is a recent example of a successful switch from retail space to rental accommodation.
The Art Deco, Grade II-listed building, which used to be a department store, has been transformed into 78 new apartments with roof-mounted solar panels delivering a highly efficient water heating system. Originally built in 1938 for the Doncaster Co-operative Society, with a design mimicking the prow of an ocean liner, it has been converted into one, two and three-bedroom apartments, with period features such as tile cladding and Critall-style, metal-framed windows kept during the conversion. All of the apartments have already been successfully sold off-plan.
Empire Property Concepts (the developer) paid £920,000 for the site, with conversion costs of £4.3 million. The development now has a GDV of £9.3 million.
Renewing our Urban Centres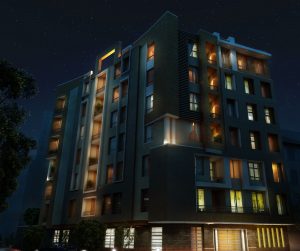 For decades, we have viewed our urban centres as places to shop. The internet and our current concerns about social distancing driven by the pandemic have reinterpreted our relationship with shopping. Urban centres could be coming full circle – while those with money fled the cities in the pandemic to look for green space, there is a greater majority who remain but could be attracted by a revitalisation of their centres. Retailers need to maximise their assets and planning rules now make the application to conversion to residential use easier, if not necessarily quicker.
The number of shop fronts could reduce to be replaced by keypads for flats, while car parks in some of the lowest footfall retail units could be converted to attractive and sustainable new build estates – breathing new life into underused concrete streetscapes, which could have profound benefits, especially for younger first time buyers, renters and those who want to live close to where they work.
Understand the Changes
Large scale planning applications and proposals could impact on the value of a client's property asset and imply potential future traffic issues and loss of visual amenity that could affect a client's day to day life after completion. Knowledge of how the area may change can enable Conveyancers to support their clients to make an informed decision ahead of the exchange of contracts.
FCI's Premium Plus Planning Reports pull the latest available planning data from the supplier at the time of compilation of each report. This comprehensive report will enable a client to make an informed decision on this and other matters including flooding and contaminated land.
Using unique intelligent FCICapture technology, FCI identify developments which, although lying outside of the search boundary, if completed may, in reality, extend within the area of interest around the subject property. This unique approach combines essential information on contaminated land, flood, ground stability and energy and infrastructure checks to complete full environmental due diligence for your client.
For more information, contact us on 01732 755 180 or email info@futureclimateinfo.com 
References
https://www.theguardian.com/business/2020/oct/16/john-lewis-to-build-rental-homes-at-20-of-its-uk-sites
https://www.bbc.co.uk/news/business-57712618
https://www.dezeen.com/2021/07/12/john-lewis-repurpose-car-parks-10000-homes/
https://www.dezeen.com/2018/10/30/movie-mini-living-kgty-architecture-planning-park-house-video/