Planning proposals for a new build development on a former landfill site have reappeared in Dudley raising local residents' fears that the building work could release historic toxic material and landfill gases affecting homes that surround the site.  
Developer Countryside Properties is seeking to deliver 82 much needed affordable family homes in the Woodsetton area of Dudley on a vacant 6.5 acre brownfield site. They are currently seeking pre-application advice from the local council.
A rich seam of mining history
The site was formerly open cast coal workings before it became a tip between the 1950s and 1980s, during which it was gradually in-filled. Mining gave the "Black Country" its name, with large and extensive works across the area that fuelled its industrialisation.
In the Dudley area alone, there are 12 coal seams, 11 ironstone seams, 4 limestone pure seams and 14 fireclay seams, stacked on top of the other – in less than 150m of strata.  This massive concentration made it one of the earliest coal and ironstone mining areas in the country, with the earliest records held at Dudley Archives showing that ironstone was being mined underground in the Woodsetton area in Roman times.  Coal was being extracted from informal shallow mines in the Halesowen area by 1271. Because it was so close to the surface, mines sprang up everywhere and were never recorded, adding to the risk for any future development above them.
Three unsuccessful applications
Two previous bids to build homes on the site in 2005 and 2011 had been refused and the more recent 2017 application made by another developer Real Homes One Ltd resulted in more than 500 objections.
In the 2017 application, the ground investigation report by Johnson, Poole and Bloomer (JPB) identified that the site was on a substantial thickness of made ground. This included landfill waste which was underlain by shallow mine workings and some areas of open cast coal extraction, which now housed the bulk of the landfill. There were no productive aquifers below the landfill, although the Swan Brook runs in close proximity, elevating the risk for potential groundwater transmission of leachate.
JPB had identified a significantly high concentration of methane and carbon dioxide to the centre of the landfill, with less to the edges which were fringed by properties on all four sides.
On the balance of risks and residents views, Dudley Council rejected the outline planning application in October 2017.
Refusal overturned
However, a successful appeal was made to the Government's Planning Inspectorate in March 2019. In their report, the Planning Inspectorate said: "There is no doubt that there is strong local feeling about this proposal. However, the extent of opposition is not, in itself, justification for refusing planning permission.
Inspector Ian Radcliffe said the contamination on the site could be "effectively dealt with without harming the health, safety or amenity of local residents and future occupants of the proposed development."
A second planning application is needed before any work can begin to address "reserved matters", which means things like the layout and appearance of the proposed development. At the moment, Countryside Properties are seeking pre-application advice and consulting with residents. They have written to nearby residents outlining its proposals for a mixture of houses.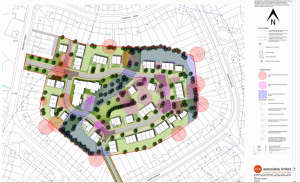 Countryside Properties site plan proposal in planning submission  
The planned development will consist of a circular estate road with 2, 3 and 4 semi-detached, three to four-bedroom detached homes and apartments, with a terrace in the middle.
Complex Site needs Careful Approach
Given its proximity to the surface and the long history of shallow mining in and around the area of Cedar drive, the Coal Authority have advised the Council that it is in a development high risk area and intrusive site investigations will be needed before any building takes place.
We have reported about the dangers of landfill gas seeping through cracks and fissures and especially through old mine shafts, such as the explosion at Loscoe. A similar set of circumstances could occur here, coupled with the fact that extensive shallow mine workings could pose significant ground engineering issues that if not fully investigated and mitigated against could create similar pathways for landfill gas to escape.
The 6.5-acre site was finally sold to Countryside Properties by Real Homes One in August 2020 for an undisclosed sum. It is a planning and management challenge that Countryside will have to fully weigh up as it looks to the viability of the site.
The dilemma is that the scheme would provide much needed housing in the heart of the Black Country, in-line with the Government's brownfield first agenda, and would help ease the pressure on greenfield and greenbelt land currently being considered as part of the local plan review.
Clarity on redevelopment and homebuying risks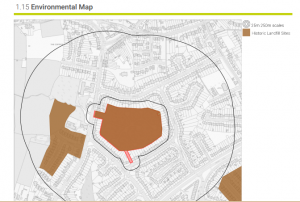 Our FCI Commercial report clearly picks up the presence of the former landfill on the site. It provides clear guidance to developers to consult with the relevant authorities, such as the Local Authority Environmental Health and Planning Departments, as well as the Environment Agency. This should also include a review of relevant planning records, details of any intrusive investigations or remedial work undertaken as well as confirmation of the Local Authority's contaminated land strategy.
It also identifies significant potential for surface water flooding issues which would need to be taken into account for the storm drainage design.
Penny Andrews, Operations and Compliance Director at Future Climate Info said:
"For existing homeowners and homebuyers looking at the existing properties that surround the site, the main issues would be the potential for impacts which may be caused by landfill gas and leachate.  For the safety of all residents (including future occupiers of the planned new affordable homes) it will be important that the developer investigates and remediates or mitigates all of the risks associated with the landfill and shallow mining at this location.
FCI reported recently on Bradford Residents whose homes now have a zero valuation as a result of these exact failings.
Picking these issues up through clear, effective environmental data early in the transaction are what Future Climate Info's commercial and residential environmental reports are about.  They will provide clear, forensic insight on the site history and its proximity to potentially contaminated land.
For commercial developments, follow-on solutions for complex cases, fixed fee further reviews,  insurance and remediation solutions can also be tailored based on the site's unique situation.
Penny Andrews is Operations and Compliance Director at Future Climate Info. She is also able to advise residential and commercial property lawyers on the potential issues and liabilities, as well as insurance options to safeguard transactions from any threat of legacy land contamination.
For more information, visit www.futureclimateinfo.com, call 01732 755 180 email info@futureclimateinfo.com
References:
https://www.dudleynews.co.uk/news/18830682.residents-fight-79-new-homes-cedar-avenu-bourne-street-area/
https://www.expressandstar.com/news/property/2020/06/20/developer-eyeing-up-82-homes-for-former-landfill-site/
https://www.expressandstar.com/news/local-hubs/dudley/coseley/2019/03/15/controversial-homes-plan-for-former-coseley-tip-overturned-by-inspector/
https://www.thebusinessdesk.com/westmidlands/news/2043714-plans-for-100-houses-in-dudley-as-6.5-acre-site-sold
Planning documents for 2017 application:
https://www5.dudley.gov.uk/swiftlg/apas/run/wphmakerep.displayURL?ApnID=P17/0184
original planning decision
http://cmis.dudley.gov.uk/CMIS5/Document.ashx?czJKcaeAi5tUFL1DTL2UE4zNRBcoShgo=NWso1k5adXr2b1PAhX4P3qU4GDE6zA0YxgQxg%2F1%2FCezrbmVes9uwlA%3D%3D&rUzwRPf%2BZ3zd4E7Ikn8Lyw%3D%3D=pwRE6AGJFLDNlh225F5QMaQWCtPHwdhUfCZ%2FLUQzgA2uL5jNRG4jdQ%3D%3D&mCTIbCubSFfXsDGW9IXnlg%3D%3D=hFflUdN3100%3D&kCx1AnS9%2FpWZQ40DXFvdEw%3D%3D=hFflUdN3100%3D&uJovDxwdjMPoYv%2BAJvYtyA%3D%3D=ctNJFf55vVA%3D&FgPlIEJYlotS%2BYGoBi5olA%3D%3D=NHdURQburHA%3D&d9Qjj0ag1Pd993jsyOJqFvmyB7X0CSQK=ctNJFf55vVA%3D&WGewmoAfeNR9xqBux0r1Q8Za60lavYmz=ctNJFf55vVA%3D&WGewmoAfeNQ16B2MHuCpMRKZMwaG1PaO=ctNJFf55vVA%3D
JPB ground investigation:
http://planningdocuments.dudley.gov.uk/AnitePublicDocs/00416993.pdf
MP petition:
https://www.marcolonghi.org.uk/news/proposed-development-p201306
Dudley Archives:
https://www.dudley.gov.uk/things-to-do/museums/dudley-museum-at-the-archives/mining/