When a Further Action result stalls a property transaction, it can be both frustrating and concerning for your client. All is not lost though, as this outcome can potentially be resolved.
At FCI we've put together this handy guide to outline the steps you can take to ascertain the extent of the risk and also some simple, straightforward checks that can be carried out to ensure the purchaser is protected.
> View the How to Move Past Further Action Results Guide Here.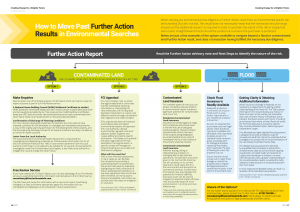 To find out more about our Further Action services, including our Free Further Action Review, contact our Risk Team on info@futureclimateinfo.com or 01732 755180.