After a sun baked February, the UK weather once again confounds us in June.  3 months rainfall in 3 days has left extensive flooding across parts of the Midlands, the South and Lincolnshire. It has led to fresh human dramas and exposed the vulnerability of our transport infrastructure and communities to locally extreme rainfall.
An enormous, slow moving low pressure has brought widespread flooding and disruption across the country. In Lincolnshire, RAF crews worked through the night to help block a breach in the River Steeping, which caused severe flooding in Wainfleet All Saints.
A state of emergency was declared on Thursday 13th June in Wainfleet. More than 100 properties in the town were flooded and residents evacuated. This drone footage shows the extent of the flooding.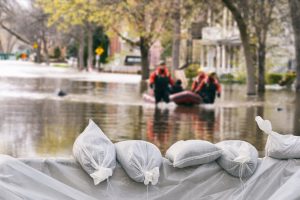 An RAF Chinook helicopter was used to help the overnight operation carrying ballast and sandbags to the site. About 50 firefighters from across the UK were also involved.
Up to 35 homes in the town have been left without power after a substation on Matt Pit Lane flooded. By Monday 17th, it was clear that the temporary repairs were not substantial enough, despite rebuilding the bank 24/7.  Consequently, the Environment Agency brought in heavy duty pumps.  However, these would not be able to reduce the river flow too quickly for fear of compromising the banks and creating bigger problems.
At this point, 130 properties in the town had now been flooded and up to 1,000 people evacuated from their homes.  They were told that they may not be able to return for a week. Those who remained were told to avoid using toilets, showers and washing machines due to the strain on the sewerage system.
Road and Rail infrastructure Affected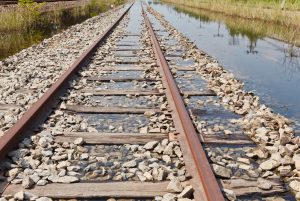 In Northamptonshire, a train was delayed by a landslide following the rainfall. The 14:34 London to Nottingham service on Thursday 13th June was stopped near Corby and 500 passengers spent up to eight hours stuck on the train before they were finally rescued.
Rainwater easily de-stabilises railway embankments and cuttings. These are now more frequently cleared of trees and vegetation due to the autumn "leaves on the line" risk. The roots and vegetation cover usually make the slope more cohesive but a deluge can move the slope wholesale. This shows how addressing one risk can create problems for another.
Elsewhere, standing water continued to affect routes on the Southern Rail network into London as well as in Lincolnshire and the North West.
In Kent, two sinkholes opened up on M25 near Sevenoaks. The section between Junctions 4 and 5 crosses an area of highly soluble of chalk. This dissolution of the rock below road and rail represents a major disruptive threat long after the rain has passed.
What was the Cause?
This latest weather event was down to a combination of two huge air masses over UK and Western Europe.  A large, slow moving low pressure system sucked up a lot of warm, moist air on its eastern flank and drew this into the weather system. The temperature difference between Eastern and Western Europe has been remarkable. While it was typically 15C in UK, Austria sweltered in 35C, less than 1000 miles away.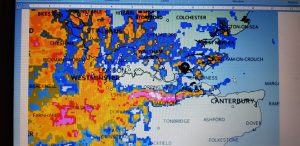 Image courtesy of @canveyisweather. Pink and white areas show more intense rainfall converging in a thin line over North Kent.
This created convergence zones where the cold and warm air mixed together.  Highly energised cells of moisture developed across North Kent and South London. There was another wider arc from Lincolnshire through the Midlands to Shropshire.
This low pressure system has been hemmed in by high pressure in Eastern Europe and also in the Atlantic to the west and north. So it just keeps rotating over the British Isles.
June normally sees 73.4mm of rain on average. Kent saw over 100mm in a 24 hour period on Mon 10 and Tues 11.  The record for the wettest place in the UK this week has gone to Pennerley in Shropshire, which has seen the equivalent of 3 months rain in 3 days!
This water all has to go somewhere.  Flood warnings remain in place across the River Severn catchment area. Temporary barriers are up in Shropshire as the bulge of water makes its way down the Severn.
Interestingly, as it has been so dry in the run up to this, many catchments have contained the deluge. There have been fewer flood warnings in the south.  The main flood risks have come from river sections in hard walled culverts and channels in urban areas.  The Ravensbourne in Bromley rose rapidly within the confines of its concrete and affected suburban properties.
Torrential rain and thunderstorms are forecast for the middle of this week. So, its eyes to the skies and charts once again to see if this adds to the problems.
Anytime, Anywhere
This event has proved once again that surface water flooding can occur any time of the year anywhere in the UK.
While it is impossible to predict where surface flooding will happen next, past events can show where the topography, water courses and streetscapes interact and could affect communities.
For homebuyers, this is essential insight ahead of completion. Property purchase decisions must be made for the longer term.  They need to think about the ability to resell it as climate change factors start to accelerate. As a property solicitor, this should be a key part of your due diligence.
Future Climate Info combines the best in class data and expertise to forensically analyse how flooding has and could shape your client's future asset.
For more information on our flood risk assessments in our environmental reports, contact us on 01732 755 180 or email info@futureclimateinfo.com