Hundreds of residents feel they have been misled over major plans to improve road and rail links in their local area. A major housing development and supporting infrastructure in Medway, Kent includes details of a flyover which would overshadow their homes and disrupt their lives.
Homeowners in Wainscott have described the proposals as a "monstrosity" which they fear will create more noise, pollution and encourage road users to use their neighbourhood as a rat run. They also fear the spectre of the proposals and then the looming presence of the concrete ramps above their homes could affect their value, together with the loss of attractive rural land.
New Rural Town Proposed
In December last year, residents received a 64 page consultation brochure outlining the proposals for the Wainscott bypass improvement. This would be part of a 12,000 unit housing development expanding neighbouring Hoo St Werburgh into a rural town.
The development consultation follows the awarding of a £170 million government Housing Infrastructure Fund (HIF) grant to Medway Council in 2019.  The council is now looking to develop its plans on how it will use the money, intending to transform the area by 2037.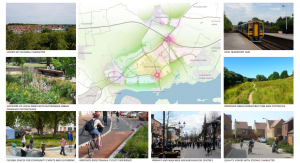 Image from Hoo Peninsula Development Consultation Document. Medway Council
The plans which will be incorporated in the Local Plan this year include expanded settlement in the villages of Chattenden, Deangate, High Halstow and Cockham Farm, with "green walkable corridors" between them and an improved public transport system.
£63 million will also be used for rail improvements, including a new rail station at Sharnal Street, just off the A228 trunk road, together with a new passenger service connecting the Peninsula to London and other Medway stations. There would also be connectivity to the HS1 High speed rail service with all in operation by 2024 and running in parallel with existing freight traffic going to and from Grain at the end of the peninsula.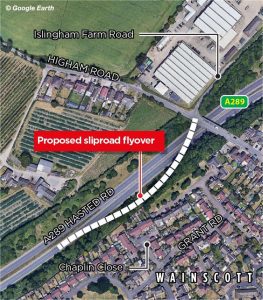 Aerial image of flyover proposal. Image courtesy of Google Earth and Kent Online. 
Devaluation, Pollution and Noise
In spite of the consultation process, there is specific concern about the flyover proposals and its impact on the existing residents of Wainscott. The council's proposal is for two slip roads, with the London-bound one initially going over the A289 before it joins the dual carriageway. The Medway-bound carriageway has an off-slip and it is proposed that they both join at Higham Road, which is an existing bridge.
Residents have complained that the consultation has come at too short notice, with many not receiving any literature till just before Christmas, with some of it online which not everyone could access.
Debbie Hughes, of Higham Road, said: "We are in a nice country lane surrounded by prime agricultural land…The consultation and leaflet documents are misleading and are not showing the true picture of what this is going to look like."
Sharron Atkins, of Grant Road, has leafleted 500 households to lobby support. She said: "The 'new road' is actually an elevated flyover, which will blight the houses of around 300 people…The devaluation of these houses will have a knock-on effect to the whole of Wainscott, which already lags behind parts of Medway in house price stability. Also, the widened new road that will join the flyover to Hoo will become a rat run as drivers use it to cut a very small corner."
Another resident had moved from Croydon for some rural tranquillity. They currently look out on to fields and instead of enjoying a 150 year old oak tree in their back garden will face the prospect of a concrete flyover instead.
Risk and Opportunity
There is an irony about the planning proposals, in that one person's loss is another's gain. Amazon set up a huge distribution depot at the old Kingsnorth power station site in 2018. While providing much needed jobs to the local area, it also caused a considerable spike in HGV traffic on unsuitable roads.
Many of the smaller villages and settlements have had to contend with huge articulated lorries being sent the wrong way or getting confused with local signs. Construction work also caused noise and damage.
Now with the proposed road improvements and access, things may get better in time, but it could just encourage more traffic as the depot gets busier and more residents come into the area.
Council leader Cllr Alan Jarrett said: "The public now has an opportunity to give their feedback on the planned improvement works.
"We understand how important it is to provide residents with new routes to good growth and the substantial funding we have received will enable us to significantly improve transport links before potential new homes are developed.
"We are committed to ensuring the right transport links and facilities are put in place before new homes are provided to meet local demand and the government's challenging housing target."
Farmers and landowners on the peninsular may also be affected by the proposals.  In due course compulsory purchase powers maybe sought in order to press on with the infrastructure projects. While this may have negative impacts for existing residents, there may be an opportunity for landowners to diversify to aid farming incomes or provide land for environmental purposes under Biodiversity Net Gain which could ultimately benefit the environment in spite of the development.
Details of the plans can be seen here.
Be Alert to Local Planning changes 
Now, more than ever it is important for homebuyers, aided by their conveyancer, to scrutinise planning data, identify patterns of development in the area and review any guidance in local plans to identify if proposed changes pose a risk to them. Alongside this, it is vital to check whether planning applications could affect the future of the green space that a homebuyer may be relying on, especially if the area is already characterised by rapid expansion.
Conveyancers are therefore increasingly closely examining planning data as a key part of their due diligence searches.
FCI's Premium Planning Plus Report pulls "live" planning data from the supplier at the request of each report, ensuring that the very latest available information is used to compile the product.
Using FCI's unique intelligent FCICapture technology, we identify planning issues which, although lying outside of the search boundary, if completed may, in reality, extend within the area of interest around the subject property.
This unique approach combines essential information on contaminated land, flood and ground stability checks to complete full environmental due diligence for your client.
For more information, contact us on 01732 755 180 or email info@futureclimateinfo.com 
References
https://www.kentonline.co.uk/medway/news/residents-hit-out-at-monstrosity-flyover-242747/
https://www.kentonline.co.uk/medway/news/major-development-plans-branded-a-fairytale-223345/
https://www.kentonline.co.uk/medway/news/do-i-look-like-an-amazon-warehouse-194076/
https://lcrig.org.uk/news/housing-infrastructure-bid
http://www.highhalstow-pc.gov.uk/community/high-halstow-parish-council-13291/proposed-expansion/
https://www.btfpartnership.co.uk/news/farmers-and-landowners-must-prepare-themselves-for-medway-councils-extensive-development-plans-for-the-hoo-peninsula/
https://www.kentonline.co.uk/medway/news/deal-done-on-170m-development-cash-231951/
https://www.kentonline.co.uk/medway/news/council-wins-bid-for-170-million-fund-215408/