A revolution is taking place in Hampshire. It's a local council that is prioritising exceeding housing targets set by Government, setting itself against a neighbouring local authority and its local residents.
Eastleigh Borough Council (EBC), whose territory includes the urban edge of Southampton and rural villages untouched by time, is shortly launching a local plan which aims to deliver 2000 more houses than the government has required of it.
The aptly-named Keith House, Leader of the Council wants to "foster growth and not manage decline" and sees housing as the key to bringing jobs to the area and council tax revenue to the coffers.
He represents a growing movement of "yimbys" or "yes in my backyard". They are a counterpoint to the better known "nimbys" who are concerned about preserving heritage, the countryside and the status quo.
Under Pressure to Get Building
This pro-development approach is a response by Local Authorities who are coming under ever stronger pressure to get more homes built or undergo extreme scrutiny of local plans to justify why they are failing to meet targets.
Currently, nationwide, the Government is seeking to get 300,000 homes a year built by 2025. For many councils this has catalysed them to engage better. Research by University College London showed 91% of councils are directly delivering housing and acting as developer or, at the minimum, offering loans. 44pc of councils also now have a separate housing company, with more than 30 established last two years alone.
The council's original Local Plan 2011 to 2029 was submitted in July 2014 but had to be withdrawn after criticism from the Inspector who cited concerns over land supply and insufficient housing numbers.
Eastleigh now wants to build 14,580 homes by 2036 via funding through the public works board to acquire land, as well as snap up housing stock directly from developers as a means to speed up delivery.
Huge Opposition
Inevitably, the Nimbys have drawn up their battle lines with the Yimbys. The new draft plan met with huge opposition when it was first revealed in December 2017. Some 800 people attended a meeting with the council to express their opposition to plans to build 5,200 new homes, shops, schools, open spaces and a new access road in the area to the north and east of Bishopstoke and Fair Oak.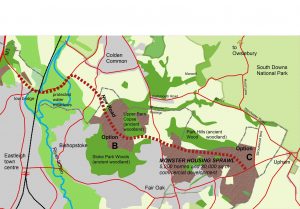 The planned housing zones near Eastleigh and protestors gathered at public meeting. 
They protested that the plans had been pre-determined (not allowed); that it contradicted national planning guidelines in many important respects and that a new relief road to support the housing development was undeliverable, as Eastleigh Council had seriously underestimated the cost.
Hampshire County Council (the Highway Authority) also wrote to EBC to express concern at the lack of supporting evidence. Winchester City Council, which must give planning permission for any changes on a feeder road that lies within its boundary, also opposed the plan. Undeterred, EBC approved the plans at which point, the mayor and deputy mayor of Eastleigh resigned and three councillors in the ruling Liberal Democrats switched to being independent.
Eastleigh Council is keen to stress that the countryside will be defended, but wants to meet head on what it sees as the majority of objections in relation to transport infrastructure, schools and doctors surgeries and get them built before the houses do.
Stark Contrasts between Councils
By summer of this year, the development proposals were still dividing planners for Eastleigh and neighbouring Winchester City Council (WCC). A Statement of Common Ground was drawn up by each authority, but concerns still remain at WCC. They fear that by about "concreting over the boundary" with Eastleigh with 5000 new homes, it places the villages of Otterbourne, Compton and Shawford in the direct firing line.
These tranquil rural villages would be at first swamped with construction traffic passing through and then under daily siege from additional traffic and pollution heading to the M3 and impacting on safety walking to and from the school or shops.
WCC, which has a local plan, adopts a fundamentally different approach to development. Earlier this year, they threw out plans for 90 homes to be built in Otterbourne. Development company Gladman first sought permission in August 2016, but withdrew the application in May 2017 after a long battle with residents, who filed a total of 315 objections.
The Eastleigh-Winchester border dispute throws into stark relief how divergent planning policies and philosophies can have clear knock in impacts for communities.
It is clear that the planning rhetoric of government is changing. It recognises that it needs to get building or it will begin to lose voter support, especially among younger people wanting access to cheaper starter homes.
Time will tell whether Nimbys win battles or if, ultimately, Yimbys win the war.
Search wider for your client
Your client could fall in love with the kerb appeal of a cottage in a place like Otterbourne. Yet they could be faced with a major development outside the village that could have a major impact on their future enjoyment of their home.  Would you have spotted this in the traditional searches?
Future Climate Info has launched a new suite of Planning reports to help residential conveyancers to minimise this risk for their clients. Planning application data is pulled "live" from our data supplier at the request of each report, ensuring that the very latest available information is used to compile the product.
Using FCI's unique intelligent FCICapture technology, we identify developments which, although lying outside of the search boundary, if completed may, in reality, extend within the area of interest around the subject property.
You can combine this unique approach to planning data with contaminated land, flood and ground stability checks in a single environmental report or order a separate planning search report. For more information, contact us on 01732 755 180 or email info@futureclimateinfo.com