A huge 6 metre wide hole opened up at the foot of a residential block of flats in St Albans, Hertfordshire in November 2018. This came just 3 years after a similar major incident in the same town, adding to a pattern of similar "Sinkholes" in chalk areas, suggesting the potential presence of old unrecorded mine activity.
On discovery of the hole, which was so close to one of the walls, the flats' inhabitants were evacuated and the building cordoned off as utilities were shut down. Structural engineers and teams from both the local council and utilities assessed the damage and concluded that residents were unlikely to be allowed back into their flats for a number of weeks.
A major sinkhole also appeared on Fontmell Close in St Albans in 2015, which was later confirmed to be linked to ancient brick clay quarrying and its associated underground chalk mining.
An historic clay pit has been badly capped and the shaft had been compromised by the chalk mine below the pit. This created a void which collapsed into the shaft.
The resulting crown hole (known as a sinkhole) caused extensive damage to the surface, denied access and utilities to homes for many months.
The link between past clay extraction and chalk mining is a common link between a number of ground collapses or sinkholes that have appeared over the past decade in parts of Buckinghamshire, Hertfordshire and London, where chalk outcrops exist.
Cedar Court is located on the northern boundary of a former 1920s-30s brickworks and clay pit, north of Hill End Train Station. 
Geologically, it is very similar to nearby Fontmell Close. In fact, the chalk appears to be closer to the surface at Cedar Court.

Historical mapping of the Site at Cedarwood Close. (left): 1895 (1:25 Inch) historical mapping showing location of Chalkdell Wood. (right): 1935 (1:6 Inch) historical mapping of the historic Brickworks at Hill End Station. Courtesy of Terrafirma.
Ancient chalk mines exist across much of southern England and are associated with ancient agricultural practises. They are often found next to field boundaries or 'dells', ancient woodland designated for chalk extraction.
The chalk, or the lime within the chalk, is spread across the surface to improve the productivity of the soil. These glacial soils are present beneath the Cedar Court, which lies next to the historic 'Chalkdell Wood', whose name is quite a clue!
The collapse could also be due to the natural dissolution of chalk beneath the Site. Chalk is soluble and intense rain events, which are becoming increasingly common, can erode and undermine these rocks.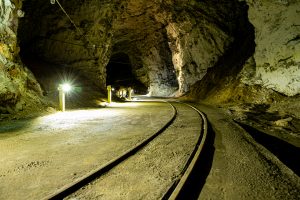 Other notable areas of chalk mining subsidence include Reading. In 2000, dozens of people in the Field Road and Coley Road area were forced out of their homes when an abandoned chalk mine collapsed.