Last month, the Government published "Planning for the Future" – a consultation paper designed to radically reform England's planning regime. The aim is to streamline and modernise the planning process, improve outcomes on design and sustainability, reform developer contributions and ensure more land is available for development where it is needed.
In the second part of our three-part special on the consultation, we looked at the main proposals and examined what this meant for local housing delivery. In this final part, we summarise the reaction of the property industry and stakeholders across Local Authorities and Housing Associations to see if this will provide longer term stable planning reform. 
What has been the reaction?
While the proposed changes are likely to appeal to developers, they prompted stinging criticism from housing charities, planning officers and architects who warned of a new generation of fast and substandard housing.
The Town and Country Planning Association (TCPA) condemned them as disruptive and rushed, saying 90% of planning applications are currently approved but there are up to 1 million un-built permissions. Others have called it "a developers' charter" that will "set fire to important safeguards".
The Royal Institute of British Architects (RIBA) described the proposals as "shameful" and said they would do "almost nothing to guarantee the delivery of affordable, well-designed and sustainable homes". "While they might help to 'get Britain building' – paired with the extension of permitted development rights last week – there's every chance they could also lead to the development of the next generation of slum housing," said RIBA president Alan Jones.
Housing charity Shelter said social housing "could face extinction" if the requirement for developers to build their fair share was removed. "Section 106 agreements between developers and councils are tragically one of the only ways we get social homes built these days, due to a lack of direct government investment," said its Chief Executive, Polly Neate. "So, it makes no sense to remove this route to genuinely affordable homes without a guaranteed alternative."
Jenrick's plans to "strip bureaucracy and delay" from the planning system are a case of "so far so good" according to Peter Hogg, UK Cities Director at design and environmental consultancy, Arcadis.
"The new approach may make it easier to get consent, but how will it make the all-important financial viability – without proof of which house builders won't build – more certain? Unless the policy addresses this we will have more planning consents but not more homes." Hogg said.
Upward extensions could have major impact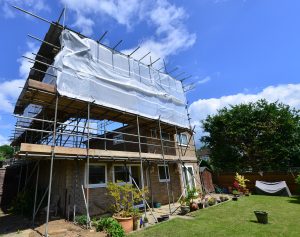 Local Councils have responded with concern at the seeming removal of decisions from local people and councillors. They cite in particular the prospect of new Permitted Development Rights (PDRs) on property height, with the potential to add two storeys to houses. This could have real impacts on neighbours and lead to more disputes over light, privacy and visual encroachment.
Announced ahead of the Consultation paper in July, a new Part 20 class A permits development consisting of works for construction of up to two additional storeys of flats on top of purpose-built detached blocks of flats, together with certain associated works. The PDR will not be available where the existing building was not originally built and remains as a block of flats.
The existing building must have been constructed between 1st July 1948 and 5th March 2018 and there are various other limitations, including limitations on floor to ceiling heights of additional stories, the height of the roof of the extended building, the overall height of the extended building and the height of the existing building, which cannot be more than three stories above ground.
The right is not available within conservation areas, for listed buildings or scheduled monuments, or on land within three kilometres of the perimeter of an aerodrome. Prior approval must be applied for (and obtained) before any development can commence. The prior approval matters are transport and highways impacts, air traffic and defence asset impacts, contamination and flooding risks, external appearance, provision of adequate natural light, impact on amenity of the existing and neighbouring buildings and on protected views.
Local planning authorities (LPAs) can refuse an application if conditions or limitations are not clearly complied with. They must refuse if adequate natural light is not provided and it has relatively broad scope to request further information to help it determine an application.
While there are many limitations, it will be attractive to some developers as it will be a cheaper alternative to complete demolition but the process resembles that of a full planning permission. There still remains some doubt as to whether the PDR only applies to buildings that are purely residential.
Bernadette Hillman, partner in the planning team at London-based law firm, Sharpe Pritchard, commented: "Much of what the government proposes is possible under the current system and we should be building on the existing regime. Permission in principle already exists and there really is no need for major reform: just some technical adjustments and properly resourced local planning departments. We've seen permissions for millions of homes in the last 10 years not being implemented: we need delivery. There's so much we don't know yet – the devil will be in the detail, of course."
Martin Edwards, a leading planning barrister has developed a blog in which he has started to outline commentary and thoughts on the changes. He says:
"Some might feel that the proposals are, at least, misguided. Some might even question the motive behind them. However, for a system as old as the planning system, it would be wrong to not question whether the system is fit for the 21st century and, if not, how it could be made to function better, and for whom.
If adopted, it will take some time for the necessary changes to legislation and policy so it may be some years before the full impact is felt.
Are we looking at a case of "the times they are a 'changing" or is it "the more things change, the more they remain the same"? Time alone will tell, but history gives little cause for optimism."
Change needed but Proof in Delivery
Planning is controversial, complex and vitally important. It matters to the national economy, to communities and neighbourhoods that development takes place at the right pace and in the right locations. While many will support development for the local economy, it will not be at the expense of their neighbourhood – Nimbyism will remain a powerful force.
In this final part, we looked at the changes on building heights from PDRs. We envisage a significant rise in issues from visual encroachment and light in neighbourhoods that could lead to lengthy or protracted planning disputes. It will be important for conveyancers and their clients to scrutinise future planning data to see if these are significant risks. The overhaul of the planning system is driven by this government's belief that the current regime is cumbersome and that it blocks the development of much-needed homes.
We certainly welcome a renewed appreciation of the value of brownfield land to delivering on housing numbers. The resource has always been there and it is right that as land asset it needs to be viewed more positively in terms of viability with the right incentives – but not at the expense of proper, detailed scrutiny of the potential contaminative risks and liabilities that developers could face.
While many recognise the flaws in the English planning system, there are those who fear that more homes do not necessarily mean more affordable homes, and who are urging the government to ensure this is not the case.
It is certainly true that current planning policy is not delivering for local communities. It isn't the only reason why we are not building enough homes, schools and hospitals but it affects the overall climate for development. The short term objective may be to grab headlines and project a sense of radical reform, but the proof will be in delivery and to see whether more sites, including more Brownfield, are effectively freed up in a harmonious way that communities will buy into.