A house on a polluted welsh street was sold in April, but is already back on the market as the new owner cannot bear living on one of the UK's worst roads. Blighted by traffic noise and bad air quality, the residents now face relocation and demolition of their properties.
Woodside Terrace on Hafodyrynys Road in Caerphilly sounds idyllic but in 2015 and 2016, nitrogen dioxide levels on the road were higher than anywhere in the UK except central London. It forms part of the A472, between Newbridge and Pontypool. It is the only road that links the Ebbw and Afon Lwyd valleys other than the M4 motorway 10 miles south or the Heads of the Valley road 10 miles north.
Barbara Smith moved back from Ipswich to Wales without realising the street's miserable history of pollution, noise and vibrations from the estimated 21,000 vehicle movements a day.
She spent £3,500 on secondary glazing but it made little difference. "It is not just the bad air, but the noise – all through the day and the night," she said."Every time a lorry goes past, I can feel the house shuddering. It's driving me nuts. I can't even sleep with ear plugs."
To make matters worse there is a set of traffic lights at the start of the terrace. While there can be moments of calm on a red light, when it goes green there is sudden surge of noise and exhaust fumes pushed out as vehicles accelerate away.
Can't Sell, Can't Breathe
Ms Smith is not the only one desperate to get away from the 23 properties – a row of 20 terraced homes, two semi-detached and one detached.
Martin Brown bought his home 48 years ago. Back then, there was no constant procession of lorries channeled through this single route. He identifies four empty houses. One was for sale for a year without any interest and another was the home of an elderly couple who both died more than four years ago. Their son hasn't bothered to put it on the market. Some residents claim that they feel like prisoners in their own homes.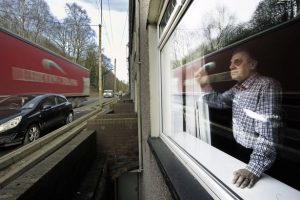 Image of Martin Brown courtesy of Wales Online
Black dust covers the walls and windows of the worst affected houses. Despite the best efforts of homeowners, it is never completely removed.
Some residents claim they have breathing difficulties due to the levels of nitrogen dioxide and fine particulate matter (PM2.5) that has worked its way into the ill-equipped properties. Long term exposure to high concentrations of the gas and particulates has been linked to early deaths, bronchitis in asthmatic children and reduced lung function growth.
Mr Brown has resigned himself to never being able to sell and move away and believes a compulsory purchase is the only solution.
"Do Minimum" approach not enough
Caerphilly Council had been looking at solutions, including a bypass and compulsorily purchasing and flattening the properties. However, in March, it voted for a "do minimum" approach even though it would take two years longer for the road to meet the World Health Organisation's (WHO) clean air target of 40 µg/m3 – 40 micrograms of annual nitrogen dioxide per cubic metre of air.
The Council said this was because it could only offer market value with compulsory purchase. Residents felt the current valuation of their properties was significantly less than a fair price, mainly because of the air pollution.
Caerphilly was relying on clean air targets being met by 2025 as newer vehicles were "predicted to deliver air quality improvements" if European engine standards delivered expected emissions cuts.
But the Welsh Government told the Council that their decision did not meet legal requirements and they should buy and demolish the homes to be within clean air guidelines by 2023.
Environment minister Lesley Griffiths reminded Council bosses of the legal requirements set by the High Court and said that "cost cannot be a consideration".
Buying and demolishing the 23 houses and businesses would cost about £4.5m. The Council was concerned that additional funding was needed to "ensure that affected residents are not pushed into financial hardship if we are forced to undertake compulsory purchase orders".
"Mixed Emotions"
After reaching an agreement with the Welsh Government, the Local Authority now plans to buy the worst-affected houses on the south side of Woodside Terrace for 150% of market value. There are some new build properties available on the other side of the valley in Crumlin, but they may not suit everybody.
Another resident, Deanna Hardwick has "mixed emotions" about the plans."This is my home. My children were born here and we do have a life here," she said. "But on the other hand, the situation isn't going to get better any time soon. It's made our properties worthless, so even if we wanted to move in the future we couldn't."
She said the thought of having to look for somewhere to live was "very stressful": "My husband and I still have a mortgage and a long time left on it. I've got three small children and they would love to go outside on bikes. If we move and we do get the chance then they can get out and be more social."
Agents should reveal Pollution Data
The National Association of Estate Agents (NAEA Propertymark) has urged its members to automatically disclose air pollution figures to home buyers.  Mark Hayward, the Chief Executive has said that it should be standard practice as there is now such great public concern about its lasting impacts on health and well-being.
In turn, he thinks that air pollution data should be used to determine where new homes, schools and care homes, steering them away from areas that exceed the WHO safe legal limits.
The move would mean extra work for agencies on how they display this data on top of energy efficiency information. Many facing a tough market already and may be resistant to what could be perceived as something that could blight a sale.
However, Hayward says it is time that agents started recognising that these issues are a fundamental part of the property's characteristics. It is possible that agents could break the law under the Property Misdescriptions Act if they aren't revealed.
Are you at Risk?
Understanding the levels of air pollution where you live or where you plan to move to is essential, especially if you have a young family or are planning to start one. Future Climate Info's partners Earthsense are working closely with Councils round the country to deploy air quality monitoring in real time.
Earthsense's unique MappAir data is now available in Future Climate Info's Premium Environmental Report. It provides a vital indicator of air quality in the vicinity of the home and is essential reading for anyone thinking of moving home.
For more information, contact us on 01732 755180 or email info@futureclimateinfo.com