Greenwich Council faced a major public outcry when they backed plans to build 330 new homes on the site of a former warehouse on Victoria Way in Charlton, South East London.
Surprisingly close to Canary Wharf and with fast transport links to central London and Crossrail nearby, Charlton's quality period properties are two thirds the price of those in next-door Greenwich and Blackheath.
Over the next 25 years up to 5,000 new homes, along with new shops and restaurants, schools, a riverbus pier and a "creative quarter", are to be built on a 275-acre swathe of industrial land overlooking the Thames Barrier.
This site was not part of the Charlton Riverside master plan and places new build apartment blocks right up against highly regarded Edwardian property.
"Overbearing" Plans
The Fairview New Homes proposals included two 10-storey blocks and 144 car parking spaces, as well as a nursery and office space.  The scheme comprised a mix of low rise with tower blocks, including 35% affordable homes and rented accommodation. The nursery would attract 22 local jobs according to OFSTED requirements and a new B1 employment building, suitable for small businesses, could generate 85 job roles.
In spite of this, local residents lodged 125 objections, alongside those of local councillors. They raised concerns shared by Transport for London and the Greater London Authority about the amount of parking spaces that were included and encouraged.
Neighbours called the plans "overbearing" and had voiced concerns about traffic congestion and the lack of facilities for residents. Others criticised a lack of consultation about the scheme.
"A Dangerous Precedent"
Fairview New Homes had also built an 8-storey block of flats on the corner of nearby Gallions Road. They were originally refused planning permission in 2015/16 to build a 10-storey block, as it was deemed out of scale and keeping with the surrounding houses. Concerned residents challenged Greenwich Council on why they had applied different rules barely 100 yards away.
The two 10-storey blocks, one 9-storey block and three 8-storey blocks would all have visual impact, while residents of Gurdon Road said that the incline of the hill would mean that properties would be overshadowed by a three-storey block.
The development sits outside the area zoned for tall buildings and local councillors were concerned that this has now set "a dangerous precedent". Concerns about congestion had already led the London Fire Brigade to ask for a yellow box junction to be installed outside East Greenwich fire station because engines were having trouble accessing the road even before the increase in traffic from the new build.
There were also concerns raised about the scheme only having one point of access for vehicles, on Victoria Way, which had effectively become "arterial roads" and that any development would exacerbate this and cause "irreversible damage".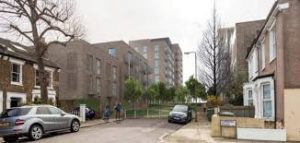 Kerb Appeal Under Threat
The scheme is an example of how the character of an area can be transformed through one development – in terms of impacts on traffic, noise, facilities. The sight lines of many of the late Victorian/Edwardian houses would also be badly affected, as you can see from the above illustration.
Your client could have fallen in love with the kerb appeal of one of these houses and thought about how their future there – only to be faced with the grim reality of a modern apartment block directly across the road from them.  Would you have spotted the impact this could have?
FCI has launched a new suite of Planning reports to help residential conveyancers to minimise this risk for their clients. Planning application data is pulled "live" from our data supplier at the request of each report, ensuring that the very latest available information is used to compile the product.
Using FCI's unique intelligent FCICapture technology,  we identify developments which, although lying outside of the search boundary, if completed may, in reality, extend within the area of interest around the subject property.
This means schemes like that in Charlton that could have a strong visual and traffic impact will be picked up, unlike other similar planning searches.
You can combine this unique approach to planning data with contaminated land, flood and ground stability checks in a single environmental report or order a separate planning search report. For more information, contact us on 01732 755 180 or email info@futureclimateinfo.com 
Images courtesy of The Charlton Champion